What is a customer approach? It's a business philosophy which fundamentally targets only one thing: exceeding customers' expectations.
Since 1992, as pioneers in the field, we developed this approach to such an extent that several of Quebec's large companies have retained our services.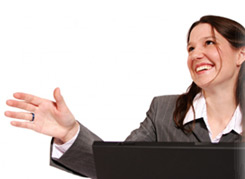 This extremely mobilizing initiative consists of putting customers at the top of our priorities and in innovating, even reinventing our work habits to attract new customers and establish stronger relations with existing customers. It demands creativity, a very clear guideline, a capacity to collaborate and work as a team, an exceptional ability to adapt to change and, above all, energetic people who are fully engaged to always go further to keep it alive within their organization.
Our role, as an external firm, is to speed up and facilitate the changes that you want to put into place, by helping you reposition your organization, question all your business processes, help your resources, clarify the new expectations, reposition the administrators' role and by stressing team concept and the creative process which will help your business develop in the years to come.
When organized by professionals, a customer approach generates extremely positive results on an organization. On average, sales increase by 20 % to 40 % and, as a result of the increase in customer and employee loyalty, the impact on the organization's profits is even more spectacular.
If you decide to go ahead with a customer approach, you will need to be ready to revalue all aspects of your organization by involving and giving responsibilities to all your resources towards this orientation.
What we can do for you
Evaluate your business in a context of customer approach (key points and weaknesses)
Define, along with you, an orientation leading to customer approach
Train your administrators and your employees
Estimate the impact and the fall-out for your organization
Revise the organizational structures to adequately support this new orientation
Implement the new orientation within your organization
Develop and set up tools allowing to better manage your customers' relations
Boost your organization by involving all your resources
A few of the customers who chose us to help them with a customer approach:
Girafe Santé

Le Mouvement des caisses Populaires et d'Économie Desjardins

RONA M. C. Beauséjour & Richard
Don't hesitate to contact us to find out more