The magic of a game in your organization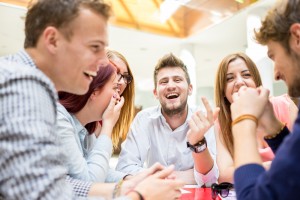 Did you ever notice that, within the framework of a game, people get transformed? Intensity and motivation are brought up to another level, concentration is stronger and the desire to make the team win reaches its paroxysm. Players do not hesitate to encourage each other, share tricks, and look for new ideas… almost instantly, the feeling of membership is in place. We belong to the whites or the reds and we are ready to go beyond our limits in order to win.
A Corporate Game is a concept based on your corporate objectives but built as a team game. It takes into account individual and collective efforts. When this concept is in place, employees come in the morning, not with the feeling that they are coming to work, but with the feeling that they are coming to contribute to the success of their team.
When we transport the magic of the game into an organization, the effects are immediate. In addition to stressing the implication and intensity of all employees, a Corporate Game brings clarification of the roles and expectations, while increasing the importance of the goals (expected results) to reach. A Corporate Game is the best motivation and mobilization tool you can ever find!
Corporate Games impact on:
Instant motivation and mobilization
Improved teamwork
Improved creativity and expected results
Greater involvement from all participants
Greater collaboration and communication
Greater membership feeling
Fall in the rate of absenteeism
Increased collaboration between the different departments
Pleasure at work
Accelerated change implementation
Each role's importance in the organization
A few numbers
Corporate Games were born in 1988
Nearly 300,000 persons experienced the pleasures of Corporate Games in Canada
More than 5,200 retailers have participated in a Corporate Game
On average, our customers having experimented a Corporate Game saw their profits increase by more than 50 %
Different pool results made by external firms with employees having participated in a Corporate Game demonstrate that:
97 % consider that the Corporate Game was a success.
Nearly 80 % of participants consider Corporate Games as being original and different from what they are used to see.
85 % of respondents consider that the mobilizing effect of the game had a direct impact on the increase in expected results.
Questions & Answers:
Concretely, what is a Corporate Game?
A Corporate Game may look like a promotion or a competition for the employees. However, it is more like a sporting event. The game is organized in such a way that it facilitates the involvement and commitment of every employee towards the achievement of the expected results. It generally rewards teamwork as well as individual efforts.
Can a Corporate Game be applied to my organizational context?
A Corporate Game can be applied to any corporate context. With this approach, spectacular results were obtained in the: finance, retail, distribution, manufacturing and telecommunication fields. The results of the game are as evident in unionized organizations. This approach was also successfully used with our customers' distribution network. Some of our customers even used Corporate Games as a pretext to determine sales targets for their customers.
What objectives may be targeted with a Corporate Game?
Numerous objectives can be targeted by a game. For example, a Corporate Game was used to facilitate the takeover of a customer approach by employees, increase sales results, improve production and quality, stress collaboration between various departments, reduce the rate of absenteeism, accelerate change implementation and as a means to develop knowledge of the company's products and services.
What is the duration of a Corporate Game?
The duration of a game may vary according to the targeted objectives. Without a doubt, it is the most important point to address before launching this approach. A too long or too short duration may have more negative than positive results.
Can a Corporate Game be used in a corporate event?
A Corporate Game may be used within the framework of a corporate event (colloquium, gala, reunion, etc…), to generate the coverage of a new orientation or corporate objectives or simply to animate an evening.
We can also develop different games to increase the number of visitors to your site during a show or an exhibition.
Is a Corporate Game easy to set up and develop?
It all depends on the targeted objectives and on the number of persons involved. Generally, 1 to 6 weeks are necessary to develop a concept that guarantees the targeted results.
What investment is required to set up a Corporate Game?
Once again, it all depends on the targeted objectives and on the number of persons involved. Often, the cost of a game varies with the results obtained.
Why would I require the services of Groupe Motivaction-Performance Plus to set up a Corporate Game?
Our expertise is your best guarantee for success. Five years were necessary to finalize an approach that allows a healthy competition and the involvement of every participant while facilitating the realization of your objectives. Each of our Corporate Games is validated with our eight keys of success and is customized to completely correspond to your values and corporate orientation.
What guarantees the results?
Every company that followed our recommendations obtained outstanding results. Furthermore, they all kept the games for two or more consecutive years.
Here are some examples of the results obtained after setting up a Corporate Game:
In a period of re-engineering and major change, a company with more than 55,000 employees and leaders, distributed in several subsidiaries or organisms sees, for the first time in 10 years, its market shares increase on all levels.
In 5 weeks, 10,000 employees see their average degree of knowledge of the products and services offered by their company increase from 35 % to 85 %.
A company with 225 employees manages to set up a new sale culture by using a Corporate Game as a strategy for implementation.
An important service distributor uses a Corporate Game to define sales targets for its distribution network of more than 4,000 retailers. Result: this company is propelled in first place of its field of activity in Quebec.
A retailer in the renovation field wins the Bâtisseur de l'excellence prize awarded to the most successful retailer of the chain in Canada.
An international airline company increases its Canadian sales by 60 % while the industry averages at 3 %.
On average, businesses having used a Corporate Game as a lever to increase their sales experienced a greater than 50 % increase. Furthermore, the rate of absenteeism decreased and teamwork as well as creativity largely improved.
Strictly connected to the organizational realities and to the particular needs of customers, our Corporate Games have a "shock treatment" effect everywhere they are implemented.
Boost your business… with a Corporate Game!
What we can do for you:
Conception
Management
Communications
Boost
In short, you benefit from a turnkey project.